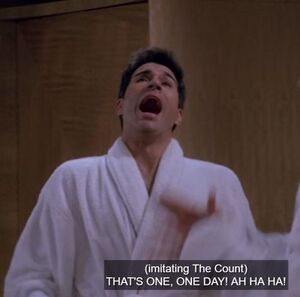 Will & Grace is a sitcom which ran on NBC from 1998 to 2006, focusing on platonic best friends Will (who's gay) and Grace (who isn't). The series was revived in 2017.
Muppet Mentions
In the second season episode "Terms of Employment," Will recalls his disappointment when he met Big Bird at the Ice Capades ("Not so big.")
The fifth season episode "All About Christmas Eve," features the following exchange:
Jack: In order for us to forgive you, you'll perform the following task. You must sing "The Twelve Days of Christmas."
Will: I can do that.
Jack: As the Count, from Sesame Street.
Will: [Romanian accent, imitating the Count] On the first day of Christmas, my true love gave to me... That's one, one day! Ah ha ha!
Jack and Karen laugh and clap
In the sixth season episode "I Do. Oh, No, You Di-in't," Beverly is sorry he missed a wedding ceremony. Karen says, "Probably just as well. There were some children there, and they get frightened when something your size isn't covered in Muppet fur."
In the seventh season episode "Sour Balls," Grace tells Karen that "taking care of children is a huge responsibility. It's more Tickle Me Elmo and less 'Let's fill Elmo up with drugs and smuggle him across the border.'"
Connections
Community content is available under
CC-BY-SA
unless otherwise noted.