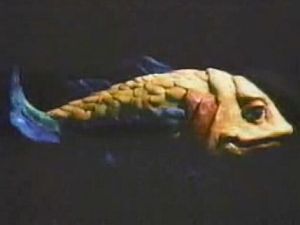 Will Vinton (1947-2018) was an animator best known for his stop-motion technique using clay figures, which he termed Claymation. He won an Oscar for his 1975 short Closed Mondays and went on to direct several other clay animated shorts, as well as TV commercials featuring the California Raisins. He did effects work on Return to Oz, produced and directed several featurettes and TV specials, directed the feature film The Adventures of Mark Twain, and his studio produced segments for the Disney Channel series Adventures in Wonderland as well as the later foam series The PJs.
For Sesame Street, Will Vinton studios produced the "Cecille" segments and the computer animated song "Hammer Time with Hammer." Vinton had previously worked with CTW on The Electric Company, personally directing and animating the clay character Clayton.
References
Shorter versions of the same Creation and Legacy clips appear in the final episode, "Eight Flags Over the Nursery," during the Mister Weirdo's Universe ride.