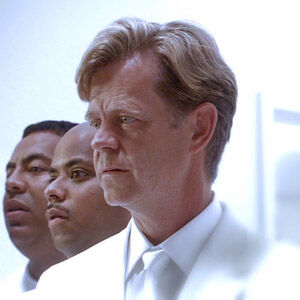 William H. Macy (b. 1950) is an actor, writer, and producer and husband of Felicity Huffman. He made a cameo appearance in It's a Very Merry Muppet Christmas Movie as an angel named Glenn.
An Academy Award nominated and multi-Emmy Award winning actor, Macy has made a career in mostly independent films and the stage. A frequent collaborater with David Mamet, Macy has appeared in such films as Jurassic Park III, The Client (with Susan Sarandon), Pleasantville (with Tobey Maguire and Reese Witherspoon), Wag the Dog (with Dustin Hoffman), and his Oscar nominated turn in Fargo (with Frances McDormand).
Television appearances include Law & Order, Frasier, ER, and the Soap opera Another World, as well as the animated series The Simpsons, King of the Hill, Superman, and Batman Beyond.
External links