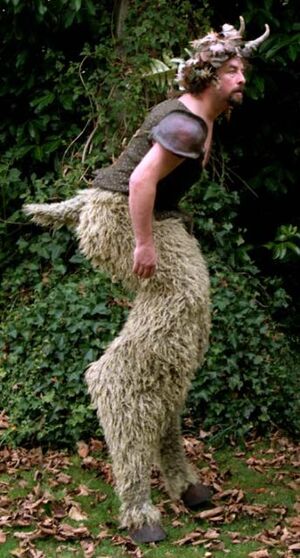 William Todd-Jones is a British puppeteer, writer, director and movement consultant, who has performed in a number of Muppet and Creature Shop productions. He was also the principal puppeteer on the Frank Oz film, Little Shop of Horrors.
He performed in Aslan the lion and played Glenstorm the centaur, in the BBC's rendition of C.S. Lewis's The Chronicles of Narnia, and has performed creatures as diverse as a troll, a dancing mouse, and a three-toed sloth. He has worked as a consultant for the Bristol Robotics Lab, advising on how people might best interact with robots.
Todd-Jones's performance of the full-bodied rhinoceros costume for a Sir Peter Hall/Gerald Scarfe stage production led to his involvement in the London-based charity Save the Rhino International, for whom he became a patron. He has raised money for the charity by running marathons as a rhinoceros, appearing at fund-raising events, and walking across Africa (from sea level to the summit of Mount Kilimanjaro) in the rhino costume, alongside author Douglas Adams.
In 1997, he created an outdoor theater spectacle, Spirit of the Rhino Drum, for the rhino charity. He wrote, designed, and directed this extravaganza on the theme of wildlife conservation, which was performed at major festivals across the UK, by African musicians, puppeteers, dancers, aerialists and acrobats. Todd-Jones also designed puppets and full-body costumes for River of Kings, a puppetry festival in Bangkok, Thailand, performed in front of the Thai Royal Palace in January 2003.
Todd-Jones was involved as a movement consultant on the Disney movie John Carter, directed by Andrew Stanton, for which he taught stilt walking and was the in-camera reference for Carter's Calot sidekick, Woola. He has specialized in bridging the disciplines of live performance and computer graphic animation, developing techniques in optical motion capture, performance animation and digital puppetry, and was integral to the development and production of the award winning, pre-school TV series, 'What's Your News?'.
Credits
External links
Community content is available under
CC-BY-SA
unless otherwise noted.