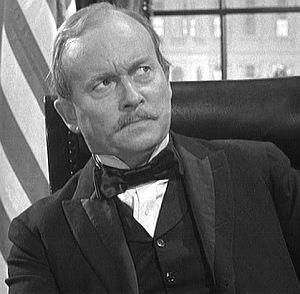 William Woodson (1917-2017) was an American actor and announcer whose best known roles were as the opening announcer on The Odd Couple television series and narrating the miniseries The Winds of War and War and Remembrance. Woodson was active in the 1980s as a movie trailer announcer, and can be heard in the theatrical trailer for Follow That Bird. He was also a frequent narrator of Disney books and records, including the read-along of The Dark Crystal.
Woodson's career dated back to old-time radio dramas, notably as the narrator of This is Your F.B.I. (1947-1953). Woodson's deep voice was equally suited to heavy drama and to self-mockery in advertising and comedy, and he worked frequently as a member of Stan Freberg's company on albums and commercials. In animation, Woodson was heard on The Smurfs and as J. Jonah Jameson in Spider-Man and His Amazing Friends, as well as narrating Superfriends. On-camera, he appeared three times on F Troop (as the secretary of state) and on Perry Mason, The Mary Tyler Moore Show, and Bewitched.
References
Fellow announcer Gary Owens offered a sound-alike of Woodson's Winds of War narration for the Dinosaurs two-part story "Nuts to War."
External links