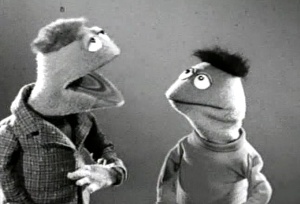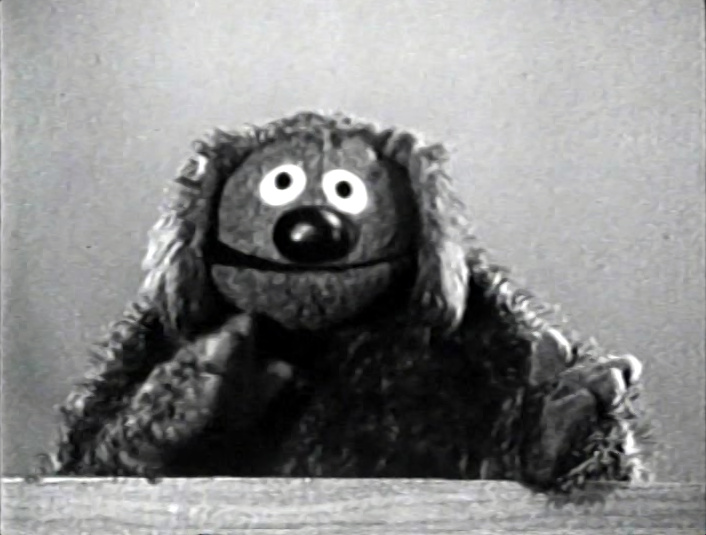 In an early version of what would become the Muppet Meeting Films, two shorts were produced for the sales staff of Wilson's Meats.
Film #1
In the short, produced in August 1965[1], Scoop and Skip bring viewers behind the scenes at Muppets Inc. (Skip worries: "You're not gonna tell them the truth, are you?") In their prologue, offering some background on Henson's work, Rowlf appears, as do two of Jim Henson's daughters as "children all over the world."
The "behind the scenes" footage follows Henson, Frank Oz, Jerry Juhl and Don Sahlin as they work on a batch of Wilson's commercials. Cameraman Del Ankers, sound man Gene Ankers (in an undershirt), and the Wilson's executives are also featured. Henson talks about how much they love the product; they even eat it while they're working. Henson holds a sandwich while he's performing. Soon everyone has sandwiches. Even the puppets have sandwiches in their mouths. They start drinking beer. Then the Muppets Inc. secretaries come in -- young women in short skirts, who start dancing and partying. "Every effort is made to turn out fine commercials for a fine product like Wilson's." A puppet is seen discarded on the floor with the rest of the trash.
Scoop: "You say that you edited that film?"
Skip: "Yeah."
Scoop: "What do you have against Jim Henson?"
Skip: "Nothing."
Scoop: "What do you have against me?"
Skip: "Nothing."
Scoop: "What do you have against Wilson's Meats?"
Skip: "Well, actually, I'm a vegetarian."
BANG! Scoop shoots Skip in the head.
Film #2
Following up on the first film in 1966[1], Scoop and Skip begin by apologizing for the last meeting film, which suggested that the Henson staff does nothing but party and drink beer. The film is a pseudo-documentary revealing the "process" behind the latest series of Wilson's Meat commercials. Introduced by Scoop and Skip, it features a sober narration by Jim Henson, along with live-action cut-aways featuring Henson, Oz, Jerry Nelson, Jerry Juhl, Don Sahlin, and actual advertising executives from Wilson's Meats and their advertising agency.
This film showcased Jim Henson's fascination with animation, live-action, puppetry, and experimental filmmaking. The proposed advertisements include a woman discovering Wilson's Certified Bacon in a vast field, a fast-paced abstract pop-art approach (featuring brief appearances by Jim, Jerry, Jane Henson, Sour Bird, Nutty Bird, and the Ostrich Feathers), an ad set in a science lab (where voiceover Jerry Juhl declares, "Wilson's Certified Bacon - scientifically proved to be immeasurably gooder."), and finally an increasingly deteriorating stop-motion animated ad. When the budget runs out for their advertisements, the Muppets Inc. quickly pulls the Scoop and Skip puppets out of storage and further commercials are produced in the same party-style as seen in the previous film. The footage renders Scoop sobbing, while Skip introduces the newly-produced ads.
Sources
Community content is available under
CC-BY-SA
unless otherwise noted.