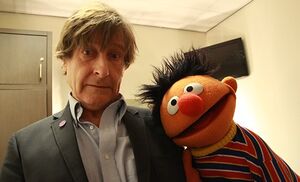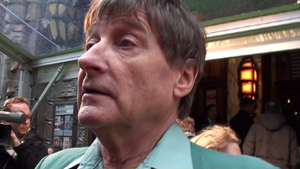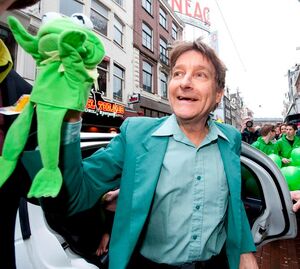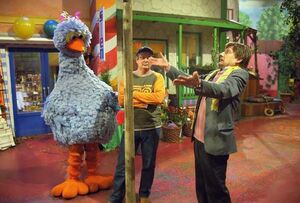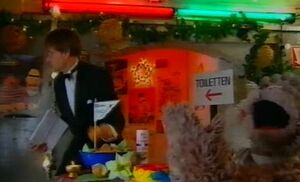 Wim T. Schippers (b. 1942) dubs the voices of many lead characters on Sesamstraat, the Dutch co-production of Sesame Street, most notably Ernie and Kermit the Frog, and has also been heard in the Dutch dub of The Animal Show. Schippers is a popular Dutch comedian, best known for his particularly high voice. He is also an artist and a writer, and he hosted the Nationale wetenschapsquiz (National Science Quiz) from 1995 to 2002.
Schippers has been dubbing Ernie since the first Sesamstraat season in 1976, with Paul Haenen as Bert. The Dutch Bert and Ernie are extremely popular. Jim Henson was so impressed by Haenen and Schippers' performances that they were originally the only Bert and Ernie in the world who were allowed to write their own material (later, Sesamstrasse would go on to produce their own, unique material starring the two). The duo have recorded a whole series of self-written Bert and Ernie record albums, and they also appear as Bert and Ernie in interviews.
Wim T. Schippers made a guest appearance on Sesamstraat in the 25th season, as one of the celebrities reading a bedtime story. He also hosted the 25th anniversary New Year's Eve special Sesamstraat In Paradiso.
In the 1990s, he performed Kermit (as a voiceover) in "Indoor Groceries" interviews with Tommie, who had to find three objects beginning with the same letter of the alphabet. He also supplied Ernie's voice in four sketches, in which Ernie asked Tommie to play outside, but with a shadow puppet used for Ernie's silhouette. In the beginning, Schippers' Ernie voice was an imitation of Jim Henson's Ernie. In later seasons, when the American sketches became a little more fast-paced, his voice grew a lot higher and more energetic.
In November 2008, Schippers announced in De Wereld Draait Door (a Dutch television magazine) the production of new Bert and Ernie CDs with new songs, introductions and sketches.
Outside of his Muppet work, Schippers has been the Dutch voice of Mickey Mouse during the 1970s and 1980s, and dubbed Happy in Snow White and the Seven Dwarfs. He wrote and produced Hoepla, a 1967 youth-targeted series that was the first in the Netherlands to show full nudity, causing a national controversy. Also he created and wrote the television show "We zijn weer thuis (We're back home)" in the 80's. Here he used his pseudonym "Jaques Plafond" for the Titel song. And several times on the background in the show you can hear the song Maak Er Wat Van.
Voice Credits
Sesamstraat: Ernie, Kermit (Kermit de Kikker), Count von Count (Graaf Tel), Guy Smiley (Henk Glimlach), The Amazing Mumford, Simon Soundman, Biff, Mr. Johnson, Showered Rozelle, Evil Prime Minister, Granny Fanny Nesslerode's Announcer, Toothbrush, Cavity
Maak Er Wat Van! and other albums: Oscar the Grouch
Ernie Heeft Rommel Gemaakt: Cookie Monster, Luis, David, Herry Monster
In Een Uur de Wereld Rond: Mrs. Van der Grijp
Sesamstraat en Melkweg: Ernie