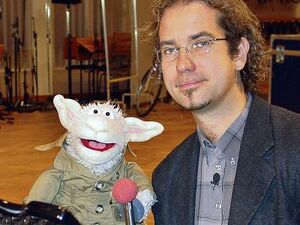 Wolf Kerschek, a German composer, musician and conductor, who was interviewed by Wolle in the Sesamstrasse episode 2418.
In 2010 he appeared in Eine Möhre für Zwei episode 9, where he taught Wolle and Pferd to play "Happy Birthday to You" together.
Graduated from Musikhochschule Hamburg, and got a scholarship to Berklee College of Music in Boston. During his carrer he has worked with various artists such as Roger Cicero, Annett Louisan, Till Brönner, Rammstein, FILMharmonic Orchestra Prague and various big bands. In 2006 he received an Echo Klassik award for his work on Little Amadeus - Die Fernsehserie Geburtstags-Edition, the same year he conducted the FIFA world cup anthem.