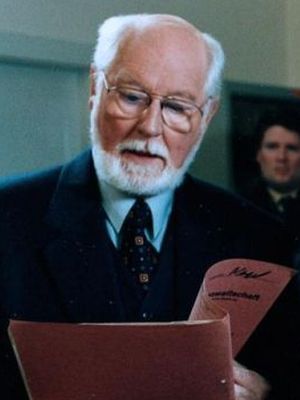 Wolf Rahtjen (1923-2003), sometimes spelled as Wolf Rathjen, was a German voice actor who was heard on Sesamstrasse, mainly dubbing Dr. Nobel Price and the right head of the Two-Headed Monster.
Based in Hamburg, Rahtjen usually lent his voice to older grandfather or authority figures, especially in animation, typified by Papa Smurf on The Smurfs. He also dubbed Grandpa on Rugrats, Merlin on The Legend of Prince Valiant, Ben Gunn in a Treasure Island anime series, and Thomas Wayne and other older characters on Batman: The Animated Series. Video game credits include Escape from Monkey Island (Freddie the Walking Stick Maker and Simkins), Lands of Lore III (Markus and the innkeeper), Black & White (as the creature leader), two Harry Potter titles, and two Command & Conquer entries.
Rahtjen's live-action dubbing included Jack Palance in Without Warning, Rudy Vallee on Batman, John Houseman and other guests on The Bionic Woman, and various supporting actors on Columbo. In audio recordings, he was heard in The Three Investigators series and wrote and directed the Sauri cassette series (while also filling occasional roles). He played old timers in Lucky Luke releases, minor Romans in the Asterix series, and one of his last roles was pirate Tom Morgan in another Treasure Island adaptation, in 2002.
On German television, Rahtjen appeared on-camera as doctors, prosecutors, government officials, and other dignified parts, in episodes of Tatort, the scifi series Raumpatroille, Das Kriminalmuseum, and Graf Yoster gibt sich die Ehre. He also directed a few broadcasts. In 1997, he played Judge Tobias in the TV movie Napoleon Fritz, one of his last on-screen roles.
External links