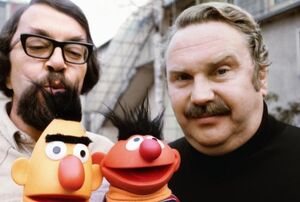 Wolfgang Kieling (1924-1985) was a German actor who dubbed the voice of Bert on Sesamstrasse from 1973 until his death. Together with Gerd Duwner, who dubbed Ernie, they originated the duo on German language TV.
Kieling was active in German cinema and also appeared in a few English-language films, most notably Hitchcock's Torn Curtain (1966) as East German agent Gromek (killed by Paul Newman). He appeared in House of 1,000 Dolls (with Vincent Price) and played drug smuggler Granich in the 1971 heist comedy $ (with Warren Beatty and Goldie Hawn). For German TV, he played Richard III and appeared in episodes of Tatort, Der Alte, and Derrick.
As a German-language voice actor, Kieling dubbed Frank Sinatra in seven films, Torn Curtain co-star Paul Newman in several films, Leslie Nielsen twice, and in one film apiece, Charlton Heston (in Planet of the Apes), Marlon Brando, James Coburn, and Danny Kaye. He dubbed the Mad Hatter in Disney's Alice in Wonderland and narrated audio recordings ranging from a non-Disney Bambi to Dracula.
External links
Community content is available under
CC-BY-SA
unless otherwise noted.