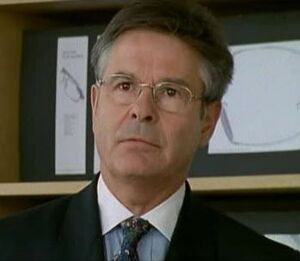 Wolfgang Ziffer (b. 1941) is a German voice actor who dubbed '80s Robot in Die Muppets (The Muppets). He previously dubbed Tar in the Farscape - Verschollen im All episode "Dream a Little Dream."
With a distinctive high pitched voice, Ziffer has often voiced robots, aliens, squawking birds, cartoon characters, or other off-beat creatures. His mechanical resume began with V.I.N.C.E.N.T. in Disney's The Black Hole, followed by Johnny 5 in Short Circuit and its sequel. For the Star Wars prequels and tie-ins, he assumed the role of C-3PO from fellow voice actor Joachim Tennstedt (who returned to the part for The Force Awakens).
Ziffer dubbed Jack Pumpkinhead in Return to Oz, Warwick Davis as Wicket in The Ewok Adventure, and the lead roach in Joe's Apartment, as well as Terry Jones as Prince Herbert in Monty Python and the Holy Grail, Joel Grey in The Seven-Percent Solution, and Richard Dawson on Hogan's Heroes
Cartoon roles, often as excitable types or squeaking critters, include Roger Rabbit in Who Framed Roger Rabbit?, Gurgi in The Black Cauldron, Dale on Chip and Dale Rescue Rangers and other series, Dino on The Flintstones, Shaggy on Scooby-Doo, Willi the worm in the German animated feature Stoawaways on the Ark, and Digit the roach in An American Tail. Bird roles include the raven Gulliver on the German series Benjamin Blümchen, a different raven Rocco on the children's audio series Xanti, Iago in Aladdin, and Petri in the Land Before Time franchise.
External links