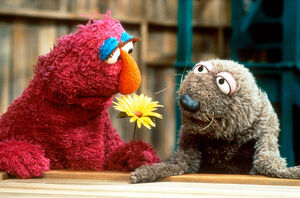 Wolfgang the Seal is an excitable seal on Sesame Street, who communicates through a series of barks.
Wolfgang has a great affinity for fish. If he so much as hears the word "fish," he is apt to go into a frenzy, so other characters avoid saying the word in his presence.
He appeared on Sesame Street starting in Season 21, although the puppet appeared as early as Episode 2568. In his early years he was owned by Uncle Wally, who taught the seal how to play a series of horns with his nose.
He also appeared in the special Sesame Street Stays Up Late, where he balanced a beach ball (representing Times Square's annual New Year's Eve custom of lowering a large crystalline ball on top of a building) on his nose. So as the countdown reaches zero, he threw the ball up in the air in slow motion with his nose.
His birthday is December 23rd. As glimpsed on a package from the "Fish of the Month Club" in Episode 3805, Wolfgang resides at 234 Sesame Street.
Wolfgang made an illustrated cameo in the first part of Muppet Sherlock Holmes, where Bunsen Honeydew and Beaker, working for Moriarty Masonry ("That's mason jars, not bricks, mind you,"), have created the perfect seal for their jars. That perfect seal is Wolfgang, who seals the jars of preserves perfectly.
The Wolfgang puppet was later used as another seal character named Rollie in Episode 4722. He later made minor appearances in the control room of The Not-Too-Late Show with Elmo, performed by Martin P. Robinson.[1] In the Sneak Peek Previews segment "The Seventh Seal", the puppet was used for all seven seals, including Sven, the titular seventh seal.
Episodic appearances
Album appearances
Book appearances
Merchandise
Sources