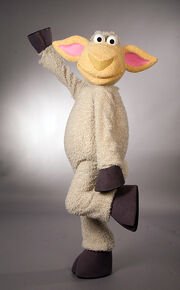 Wolle is a witty sheep character from Sesamstrasse, the German co-production of Sesame Street. He is Pferd's best friend, and together they form a comic duo. Wolle considers himself smarter than Pferd, but a lot of the time he makes the same mistakes. Wolle can often be found playing "Super-Schaf" (Super Sheep) or "Detektiv Wolle" (Detective Wolle).
Notes
The German word "Wolle" means wool, and is also a common nickname for somebody named "Wolfgang."
Martin Paas, who performs Wolle, and Carsten Morar-Haffke (Pferd's performer) also scripted the early Pferd & Wolle sketches, as well as episodes for the Sesamstrasse spin-off Eine Möhre für Zwei.
Martin Paas originally auditioned for the role of Pferd, who was designed to be a solo character. He and Morar-Haffke were the two finalists in the audition with Martin P. Robinson. When Paas picked up a random Muppet sheep to interact with Pferd, the producers were so impressed that they decided to hire both puppeteers and use the sheep as a character.
Since late 2010, Wolle has been rebuilt twice, with more separated eyes, smaller pupils, and an overall whiter appearance.