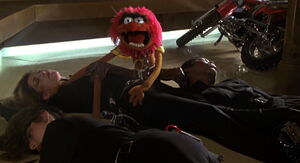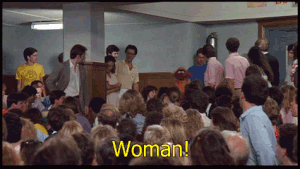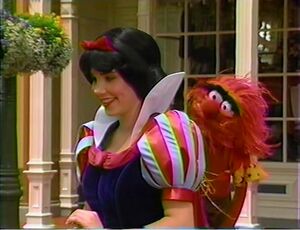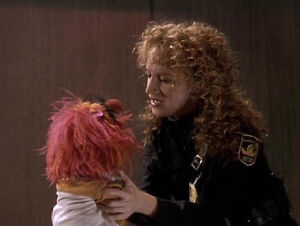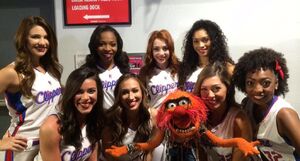 Instances of Animal objectifying and chasing women.
"Woman! Woman! Woman!"
In The Muppets Take Manhattan, Kermit thanks the audience of the gang's college performance of "Manhattan Melodies stating: "We're all so proud to be graduating now. Some with honors..." Animal is seen chasing a young college coed out of the auditorium shouting "Woman! Woman! Woman!" Kermit continues stating "...and some with the help of daily psychological counseling."
In Muppet Match-up (seen in Muppets Tonight episode 101), after Animal is asked for his idea of a fun date, Animal gets to his feet and runs towards Michelle Pfeiffer yelling, "Michelle! Michelle! Michelle!" This cause Pfeiffer to flee, screaming, as Animal mugs to the camera saying "Woman!"
In a 2008 video produced for Muppets.com, Animal has a "conversation" on the elevator with Beaker and The Swedish Chef; the only words spoken are "mee mee" from Beaker, "hoo-dee-hoo" from the Chef, and "Woman!" from Animal. (YouTube)
In 2015 the Muppets' official Twitter account posted a photo of Animal at a Los Angeles Clippers game with the caption "Animal poses with the @LAClippers' Spirit Dancers. 'Woman! Woman! Woman!'"[1]
Honorable mentions
At the conclusion of the "Fever" number, when Rita Moreno bashes Animal with cymbals, Animal responds with "that my kind of woman."
In The Muppets episode "Pig Girls Don't Cry", it is explained that Animal can't tour anymore because life on the road is no good for him. Animal laments the fact stating "Too many women. Too many towns."
Notes
In more recent years, Animal's obsession with women has been replaced with a similar affection and obsession for Bunny.
Sources
↑ @TheMuppets on Twitter March 15, 2015.
See also
Community content is available under
CC-BY-SA
unless otherwise noted.