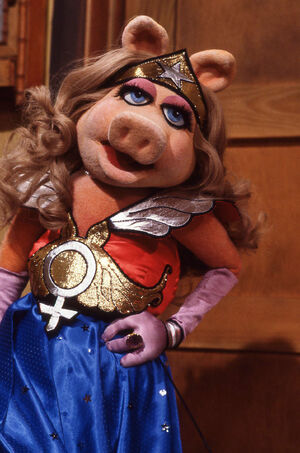 Wonder Pig is an alter ego taken on by Miss Piggy in episode 419 of The Muppet Show. Lynda Carter is the guest, and as Kermit advertises at the show's opening, she is the star of TV's Wonder Woman. As a result, the Muppets are excited to have her on the show, although they're disappointed that Carter isn't going to play Wonder Woman on the show.
Taking Carter's place, Miss Piggy appears in an adventure story of "sheer terror" as the glamorous superhero Wonder Pig. In the sketch, Piggy plays the sister of Annie Sue, who is bedridden and in a state of shock. Link Hogthrob and Dr. Julius Strangepork are baffled by Annie Sue's condition.
Then they catch sight of the thing that caused Annie Sue's collapse -- a giant chicken wandering around outside their house. Link, Strangepork and Annie Sue are all struck helpless at the sight of "one of the most frightening creatures ever to roam the Earth."
To save her family, Miss Piggy spins around to transform into Wonder Pig, increasing in size and breaking though the roof. Wonder Pig scares away the chicken and saves the day.
Wonder Pig's costume is modeled after Wonder Woman's, with some slight modifications. A key difference between Wonder Pig's uniform and Wonder Woman's is the presence of the pig's usual long purple gloves. Her golden girdle has been forged to outline the shape of a pig's ears. Above the ears are a pair of white wings suggesting the swiftness of the Greek god Hermes, a source of Wonder Woman's power. At the center of the girdle, and most prominently displayed in a silvery-white, is the female gender symbol, derived from a stylized representation of the Greek goddess Aphrodite. The symbol stands for beauty and femininity, and is constructed of a circle (representing spirit) above a cross (representing matter).
On November 5, 2015, Miss Piggy tweeted, "#TheSuperheroWeActuallyNeed is definitely moi as WonderPig. My people are anxiously awaiting your calls, movie studios." [1]
Trivia