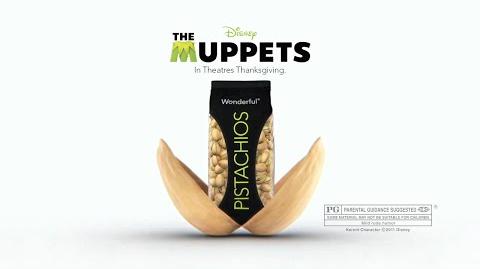 Wonderful Pistachios are a brand of pistachios manufactured by Paramount Farms.
Wonderful Pistachios are advertised with a TV campaign called "Get Crackin'", featuring various well-known celebrities showing off how they crack open Wonderful Pistachios. Kermit the Frog appears in a 2011 "Get Crackin'" ad as a promotional tie-in with The Muppets. He shows off the green color of the pistachio and the "green" biodegradable container (shell) that the pistachios come in. "Kermit does it 'cause he's green", according to the voice-over in the ad.
The ad ends with the voice-over announcing "Disney's The Muppets in theaters Thanksgiving." The ad re-aired in the spring of 2012, with the closing voice-over changed to promote The Muppets "now on Blu-ray and DVD."
The commercial debuted on September 18, 2011 during the 63rd Annual Primetime Emmy Awards. The commercial ran during the season premiere of Dancing with the Stars and in the weeks surrounding The Muppets's theatrical and home video releases.[1]
Miss Piggy later appeared in a 2014 ad coinciding with the release of Muppets Most Wanted. Piggy devours through a bowl of pistachios by way of "He loves me... he loves me not." She runs out just after "he loves me not" and hollers "More pistachios!" The ending voice-over states "Miss Piggy does it like a diva."
Some other fictional celebrities who have appeared in Wonderful Pistachios ads have connections to the Muppets, including Homer and Bart Simpson, Charlie Brown and Lucy of Peanuts, and Mr. Bill of Saturday Night Live.
Gallery
References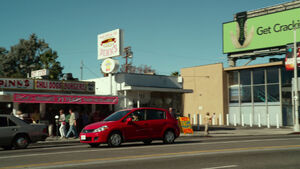 Sources
External links