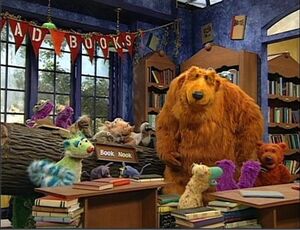 Woodland Valley Library is a place for everyone in Woodland Valley to go for research and resources. It is managed by Otto and Etta Otter. It is located directly in the center of the town. In addition to books, it also offers DVDs, CD-ROMs, Internet access and various other resources.
Woodland Valley Library is featured in the two-part Welcome to Woodland Valley story. A tree falls on the library and the entire community works together to help get it cleaned up. There is damage to the collection and so donations are made. When Ojo discovers possums living in the tree that fell, the tree itself is made into a part of the library as the Book Nook.
The library is featured in the song, "Everything Is Great About the Library." Harry the Duck wonders what's so great about the library and so Tutter, Treelo, Pip and Pop sing a song to explain it. They tell him that there's something for everyone at the library, but the library is a place to read, so you have to keep your voices down.
Community content is available under
CC-BY-SA
unless otherwise noted.