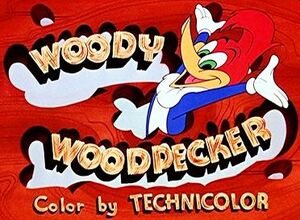 Woody Woodpecker is the avian star of a long-running theatrical cartoon series, and various TV versions and revivals as well as comic books. Known for his distinctive "Huh huh huh, huh huh" laugh, Woody was a screwball irritant introduced in the 1940 Andy Panda short Knock Knock and his own novelty song became a popular hit in 1947. The bird usually drove his adversaries nuts, although as with many characters, he had become more suburban by the time his series ended in 1972. The Woody Woodpecker Show, combining new scenes of Woody with "my boss"/creator Walter Lantz, ran from 1957 until 1966, and the character has been periodically revived since then (with designs fluctuating between the forties and fifties incarnations). Woody Woodpecker is also the official mascot of Universal Studios theme parks, as well as PortAventura in Spain.
References
Connections
Community content is available under
CC-BY-SA
unless otherwise noted.