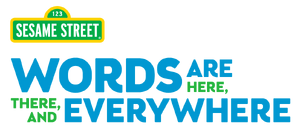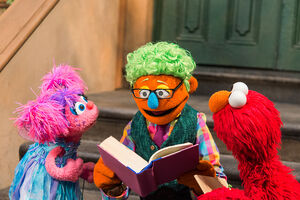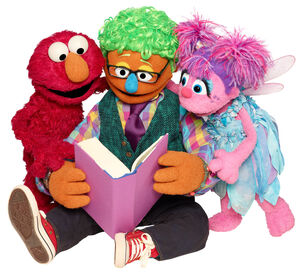 Words Are Here, There, and Everywhere is a bilingual vocabulary initiative developed by Sesame Workshop in partnership with PNC Grow Up Great. The corresponding video, which features Abby Cadabby, Elmo, and a new Muppet character Buzz Word, was released in September 2014.
A 13-part audio-only production was released through the Sesame Street in Communities podcast feed. The final episode includes Abby reciting a poem based on the song "I Love Words".
Credits
Executive Producer: Carol-Lynn Parente
Supervising Producer: Melissa Dino
Producer: Mindy Fila
Directed by Matt Vogel
Written by Christine Ferraro
Starring the Muppets of Sesame Street:
Muppet Captain: Matt Vogel
Jim Henson's Creature Shop Puppets, Costumes and Props
Music Director: Bill Sherman
Music Director - Arrangements and Orchestrations: Joe Fiedler
Music Director - Vocals: Paul Rudolph
Music by Bill Sherman and Joe Fiedler
Composers: Alex Lacamoire, Kathryn Raio, JP Rende
Senior Vice President, Community & Family Engagement: Jeanette Betancourt, Ph.D.
Executive Vice President, Education, Research and Outreach: Lewis Bernstein, Ph.D.
Senior Vice President, Curriculum and Content: Rosemarie Truglio, Ph.D.
Production Designer: Bob Phillips
Graphics: Pete Ortiz
Associate Director: Benjamin Lehmann
Sound Effects Editor/Re-Rerecording Mixer: Dick Maitland, C.A.S.
Cameras: Frank Biondo, Jerry Cancel, Shaun Harkins
Production Assistants: Andrew Moriarty, Katie Robinson, Rachel Colleen Smith
Animation by Magnetic Dreams
Animated Films by Blacklist and The Studio
Location Productions by Julie Speer Productions
DVD Production: Frank Campagna, Franco Schettino, William D'Amico
Taped at Kaufman Astoria Studios
External links
Community content is available under
CC-BY-SA
unless otherwise noted.