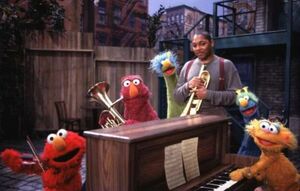 Wynton Marsalis (b. 1961) is a Grammy Award-winning jazz trumpeter and composer. He is the brother of Branford Marsalis.
Marsalis has appeared multiple times on Sesame Street throughout the years. He first appeared on the show during season 17 in Episodes 2199 and 2205. He also appeared in the celebrity version of "Put Down the Duckie."
In the 1990s, Marsalis returned to the street in Episode 2874 (in season 22) to perform at Birdland. He later appeared in Episode 3750 (season 29) to helm "Wynton Marsalis' Monster Music Class."
In 1998, Marsalis contributed to Sesame Workshop's "Art From the Fuzzy and Famous" touring art exhibit, creating the "Thank You, and All That Jazz" piece. In 2006, he was awarded The Jim Henson Community Honor.
His concert set sometimes includes a performance of "Rubber Duckie" with the Jazz at Lincoln Center Orchestra,[1] and he featured as a guest in Joe Fiedler's Open Sesame concert on February 4, 2019. On October 25 and 26, 2019, Marsalis served as music director, trumpeter, and host of A Swingin' Sesame Street Celebration. For the show, he also composed a new arrangement of "I Don't Want to Live on the Moon."
Sources
External links