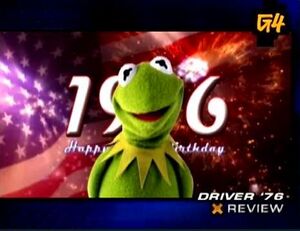 X-Play is a video game review show on G4 hosted by Adam Sesler and Morgan Webb. During their reviews, they make many pop-culture references, including Muppet ones.
Muppet Mentions
"X-Play the Musical": When Billy the Newspaper Boy gets sick, he reassures Adam and Morgan, claiming he's okay. Adam comments "That's what Jim Henson said!"
In a review for The Chronicles of Narnia: The Lion, The Witch and The Wardrobe, Adam comments that the faulty camera movements in the game make him feel like Grover, going "near, far, near, far".
In their review for "Driver '76", among the things Adam lists that happened in 1976 are that a "A frog with a hand up his ass hosted his own prime-time puppet show."
In the March 23, 2011 show, among the games featured during the Microsoft game event in San Fransisco segment is Once Upon a Monster.
In a November 2011 episode, Adam Sesler lists Once Upon a Monster among family games to buy for the holiday season.
See also
Community content is available under
CC-BY-SA
unless otherwise noted.