Written by
Frank Silver and Irving Cohn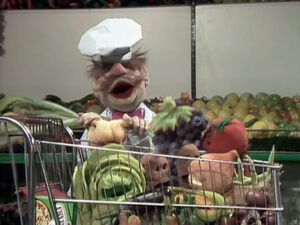 "Yes! We Have No Bananas" is a novelty song from the 1922 Broadway revue Make It Snappy sung by Eddie Cantor. It became a major hit as recorded by Billy Jones which inspired the follow-up song, "I've Got the Yes! We Have No Bananas Blues".
Kermit and Chicken Liver lip-synced to a recording performed by the Alley Singers (Phil Stern and Al Brennan) in the early 1960s when they made a guest appearance on The Today Show.
On episode 208 of The Muppet Show, Marvin Suggs and the All-Food Glee Club auditioned by singing this song. The singing vegetables also performed a short version of the song during the opening of episode 510.
The Swedish Chef later sang this song (in mock-Swedish) in episode 412 with some of the vegetables also singing in mock-Swedish.
References
When Señor Zero asks Telly if he had none of something in Sesame Street Episode 2289, Telly replies, "Yes. I have no bananas!" The scene ends with a sting that quotes the song's melody.
A music cue from the song appears as a music button in the video Imagine That after Mumford returns from the jungle. The tune also serves as the music button for scenes involving bananas in Episode 3094, 3102, 3155, and 3316.
Releases
Video