Line 9:
Line 9:
 
 
 

'''Yolanda Rat''' is a [[rats|rat]] who first appeared in ''[[The Muppets Take Manhattan]]'', as a friend of [[Rizzo the Rat|Rizzo]]'s applying for a job at [[Pete's Luncheonette]]. Rizzo frequently makes passes at Yolanda during the course of the film. Yolanda usually ignores Rizzo by punching him in the stomach, but in the [[He'll Make Me Happy|Wedding Finale]], they appear very close.

 

'''Yolanda Rat''' is a [[rats|rat]] who first appeared in ''[[The Muppets Take Manhattan]]'', as a friend of [[Rizzo the Rat|Rizzo]]'s applying for a job at [[Pete's Luncheonette]]. Rizzo frequently makes passes at Yolanda during the course of the film. Yolanda usually ignores Rizzo by punching him in the stomach, but in the [[He'll Make Me Happy|Wedding Finale]], they appear very close.

 
+
 
+

She had minor roles for most of her early appearances, but has taken on a bigger, more consistent role in [[The Muppets (2015)|ABC's The Muppets]].

 
 
 

__TOC__

 

__TOC__
---
Revision as of 23:42, 9 December 2015
PERFORMER
various
DEBUT
1984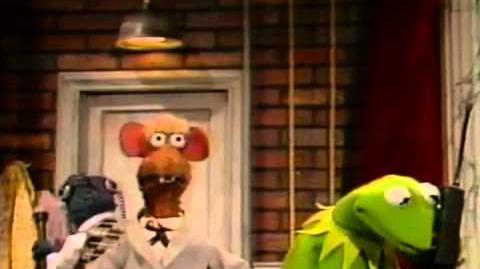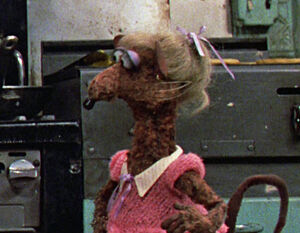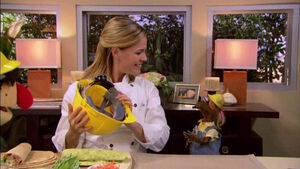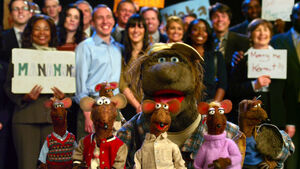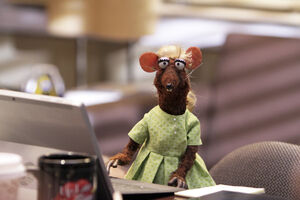 Yolanda Rat is a rat who first appeared in The Muppets Take Manhattan, as a friend of Rizzo's applying for a job at Pete's Luncheonette. Rizzo frequently makes passes at Yolanda during the course of the film. Yolanda usually ignores Rizzo by punching him in the stomach, but in the Wedding Finale, they appear very close.
She had minor roles for most of her early appearances, but has taken on a bigger, more consistent role in ABC's The Muppets.
Yolanda re-appeared in The Muppets: A Celebration of 30 Years (in a formal dress), and as a large-scale stage puppet in The Muppet Show On Tour: 2nd Edition.
She was the head of Muppet Studios in the interactive video game You're the Director, where she was named Yolanda Steele, an executive concerned with keeping production under budget. In Muppet Classic Theater, she plays a huckster who assists in selling invisible attire in "The Emperor's New Clothes".
Yolanda can also be seen in the background of A Muppet Family Christmas and The Muppets at Walt Disney World, and pops up The Muppet Show Comic Book: Family Reunion, where she is paired with Rizzo. When she and Rizzo played Hansel and Gretel in the Summer 1986 issue of Muppet Magazine, she said she was happy to be saved from being typecast in The Pied Piper of Hamelin... "we play the rats."
She briefly appeared in the beginning of The Muppets Kitchen with Cat Cora episode "Movie Night" in 2010, and has a spoken line in the episode "World's Biggest Sandwich". In the Entertainment Weekly "reunions issue" (October 2010), she is incorrectly credited for having been a cast member of The Muppet Show. She also appeared during the "Life's a Happy Song" finale of 2011's The Muppets beside Beauregard and fellow rats.
In The Muppets, she works on the staff of Up Late with Miss Piggy while studying to become an ultrasound technician (she has a 'B' average). She has a close relationship with Rizzo and has been dating a possum who works in advertising.
Filmography
Book Appearances
Merchandise
See also