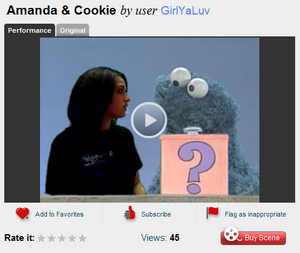 Yoostar is a digital entertainment system, on sale in July 2009, which removes actors from movie and television clips and allows users to replace the actors with video of themselves in the scene. According to Yoostar, "Users can deliver faithful, on-script performances or their own interpretation of movie and television scenes while interacting with their favorite stars." Users can record their performances on their computers, and upload them to Yoostar.com.
In May 2009, Yoostar announced a partnership with Sesame Workshop which will add clips from Sesame Street to the Yoostar system. A Sesame clip will be among the 14 clips that comes with the system. Yoostar plans to add 160 Sesame clips over the course of the multi-year agreement.
Some of the 14 sketches released by January 2010 included the Bert and Ernie bananna sketch, Lefty the Salesman selling Ernie some air, and Count von Count counting apples.
In the sample sketches, Snoop Dogg is shown interacting with one of the kids, taking the place of Cookie Monster.
External links
Community content is available under
CC-BY-SA
unless otherwise noted.