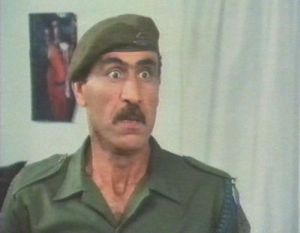 Yosef Shiloah (1941-2011, often credited in US productions as Joseph Shiloach) was an Israeli actor and voice artist who dubbed Ernie (Arik) in the original seasons of Rechov Sumsum and in the first cast album.
Born in Kurdistan, with the given name Sirus Yosefian, Shiloah immigrated to Israel in 1950 and studied acting in the 1960s, first appearing in films in 1968. He was generally typecast as Persian or "Mizrahi" Jews (those of Arab descent) in broad comedies, and often played gangsters or irritable sergeants and neighbors. He also appeared in the more serious films I Love You, Rosa (1972) and The House on Chelouche Street (1973), both nominated for Best Foreign Language Oscars. He was particularly known for such 1980s comedies as Alex in Love (as hypochondriac Faruk) and the Lemon Popsicle movies (a sort of Hebrew counterpart to both US teen sex comedies and the British Carry On franchise, with Shiloach as Sergeant Shemesh in two entries, and the same function as a ship's purser in Up Your Anchor).
In English-language productions, Shiloah played key roles in Biblical dramas of the 1970s (as the disciple Joseph in Jesus, Pharoah in The Story of Jacob and Joseph, and Dathan in Moses the Lawgiver). In the 1980s, when companies such as Golan-Globus/Cannon led to increased US-Israeli co-productions, he often appeared as Arabs in Hollywood action films, such as Iron Eagle, Rambo III (with Sylvester Stallone), Sahara (with Brooke Shields), Tobe Hooper's Night Terrors, and American Cyborg: Steel Warrior. In more recent years, he'd returned to high-profile dramatic supporting roles in Israeli films.
Sources
Jerusalem Post - Obituary, January 1, 2011
Reel Deal - "Josef Shiloach, who died Monday, was Israel's greatest comic actor, but his films helped the country grapple with its most serious issues." January 5, 2011