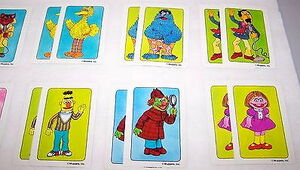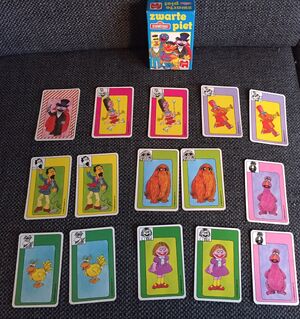 You're a Grouch! is a Sesame Street card matching game that was produced in 1982 by Western Publishing. It consists of 21 pairs of cards featuring different Sesame Street characters (several of which were fairly obscure), as well as one Oscar the Grouch card. The object of the game, in a variation of Old Maid, is to match up pairs of cards until one player is left holding the Oscar card, thus becoming a Grouch.
This game is a reissue of The Oscar the Grouch Card Game, published by Milton Bradley in 1976. In the original game, the matching pairs were items from Oscar's trash collection.
Besides Oscar, the following characters were featured in this game:
International Releases
Jumbo produced a version of the game called Zwarte Piet in The Netherlands. The Dutch game consists of 31 cards, omitting several pairs of characters and replacing some of them with pairs of cards from the game Strike Up the Band. The single card depicts The Amazing Mumford instead of Oscar the Grouch.
Also in this series
Community content is available under
CC-BY-SA
unless otherwise noted.