| | |
| --- | --- |
| Written by | Carole King |
| Date | 1971 |
| Source | Tapestry (album) |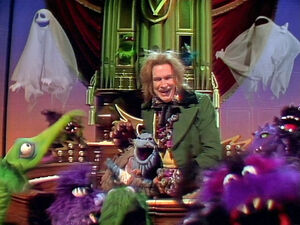 "You've Got a Friend" was recorded on two albums in 1971, first by singer-songwriter Carole King on her Tapestry album, and again by James Taylor on Mud Slide Slim and the Blue Horizon. Both performers won Grammy Awards for the song, King for Song of the Year, and Taylor for Best Pop Vocal Performance, Male.
Vincent Price and a number of ghouls and ghosties perform "You've Got a Friend" as the closing number on episode 119 of The Muppet Show. The Muppets in the chorus include Uncle Deadly, Boppity, Gloat, Droop, Miss Kitty, Scoff, the green Scoff-like Frackle, Purple Heap, Green Heap, and the Ghosts, among others.
The sketch was released on the Playhouse Video compilation Gonzo Presents Muppet Weird Stuff. Although it was included with the whole episode on The Best of the Muppet Show Volume 5, it was cut on the home video releases Monster Laughs with Vincent Price and The Muppet Show: Season One.