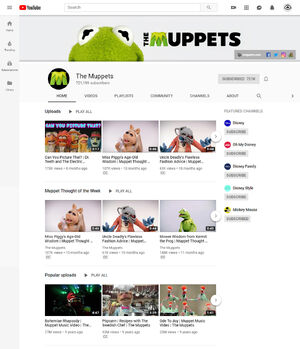 YouTube is a video sharing website which allows users to upload and share videos. Created in February 2005, YouTube is now owned and operated as a subsidiary of Google. The site hosts a wide variety of user-generated video content, including movie clips, TV clips, and music videos, as well as amateur content such as video blogging and short original videos. Most of the content on YouTube has been uploaded by individuals, although media companies including The Jim Henson Company, Sesame Workshop and The Muppets Studio have uploaded materials to the website.
Appearances
The Muppets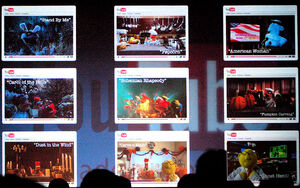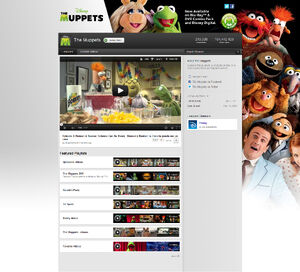 The Muppets Studio started posting a series of original web videos online in 2008 (many exclusive to the site). The first sets of videos were posted on YouTube accounts created for individual characters, including Sam the Eagle, Gonzo, Beaker, the Swedish Chef, Statler and Waldorf, Fozzie Bear, Rizzo the Rat and Dr. Bunsen Honeydew. In 2009, the videos were posted under a central Muppets Studio account on YouTube. Additional promotional videos have been posted to the channel as well.
In 2015, the Muppets partnered with a number of popular channels at YouTube Space LA.
YouTube channels
Sesame Street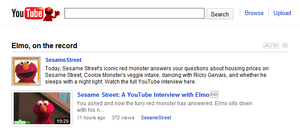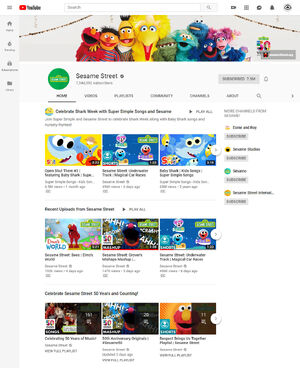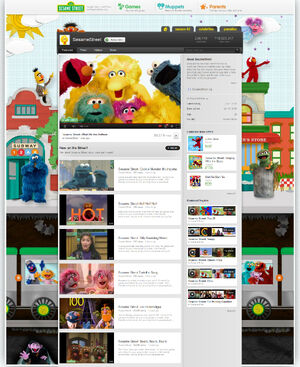 Sesame Workshop maintains their own YouTube channel featuring various clips from Sesame Street. In July 2008, Sesame Workshop launched their own YouTube channel under the user name SesameStreet (which was registered in 2006).[1] As of 2010, the channel features over 700 officially released videos clips, with new clips being added regularly. Many of the clips feature segments or excerpts from Sesame Street episodes, home videos and other related productions. Several exclusive YouTube videos have been released, it has been the home of the Put Down the Pacifier initiative, along with exclusive interactive "Ask Elmo" sessions.
On September 24, 2010, an image of Elmo graced the official YouTube logo site-wide.
On October 16, 2011, the channel was hacked, with all its videos replaced with pornography. Due to the incident, the channel (and its videos) were unavailable for several hours.
In February 2013, the channel started a campaign to become the first non-profit organization and the first US children's company to receive one-billion total video views on YouTube. The goal was reached on March 6, 2013; to celebrate, the channel released the music video "Counting the "You"s in YouTube" starring the Count.
In June 2013, a new paid subscription channel debuted, featuring select episodes from Sesame Street (seasons 35 to 38), The Electric Company (2009 revival) and Plaza Sésamo.
Telly is apprehensive of the site; learning that he's going to be on the site via 5Facts, he blurts out "you know the kind of stuff they have on YouTube? Ahhhhhhhh!"
YouTube channel
Sesame Workshop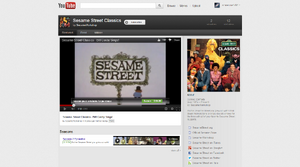 In June 2012, select episodes of Sesame Street (from Season 40 to 42) were made available to purchase, as well as classic episodes.
Episodes
YouTube channel
Full episodes uploaded on Sesame Street's official YouTube channel
International
Sesame Workshop also hosts a channel for international versions of the show. Plaza Sésamo's (while the account has been registered since September 2006) officially uploaded videos in July 2011. A channel for Sesamstrasse debuted in January 2013.
YouTube channel
YouTube ads
In September 2012, Sesame Street released a series of YouTube ads that would play before various third-party sponsored videos on the site. The videos promoted the Sesame Street YouTube channel and featured Bert, Grover and Cookie Monster. Short variants of the ads were posted in 2018 used to promote the said channel on monetized videos.
The Jim Henson Company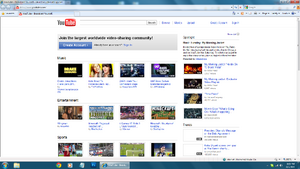 The Jim Henson Company also has a channel that showcases special videos and clips from their various productions. Exclusive full-episode previews of The Simian Undercover Detective Squad and Alt/Reality were first posted to the company's YouTube channel. Video episodes of the Henson.com podcast have also been released on the channel.
Henson briefly hosted a paid channel under the name Jim Henson Family TV, now defunct.
YouTube channels
References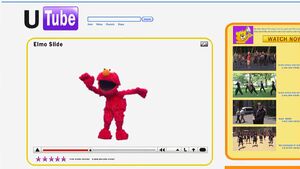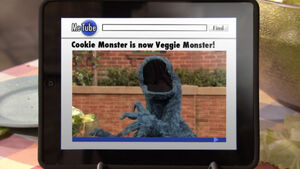 Sources
See also
The Muppets have appeared in original segments (scripted, improv, or interview, but not coverage of news events) on the following YouTube channels:
Notes
Muppet Wiki does not maintain articles about fan videos posted to YouTube.
External links
Community content is available under
CC-BY-SA
unless otherwise noted.