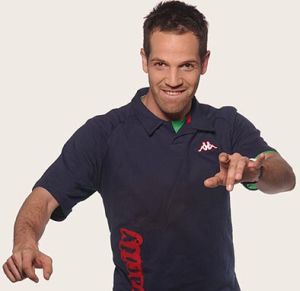 Yousef "Joe" Sweid is an Israeli Arab actor who performs the Arab Muppet character Mahboub on the new version of Rechov Sumsum. Born in Haifa, Israel, Sweid is a film actor, who was trained under Gilles Ben-David for his puppetry debut. Discussing his addition to the series, Sweid spoke proudly of the integration of Arab characters and actors into the new series:
"

Many children are afraid of Arabic. They see it as an enemy language. Mahbub is a funny character, and other [Hebrew-speaking] characters sing with him. They learn how to count in Arabic. From these small things, you get children to like 'the Other.'[1]

"
Sweid is a familiar face in Israeli film and television. He appeared on the Hebrew soap opera The Champion as sensitive soccer star Jalal. After appearing in several short films, the actor gained acclaim for his leading role in the 2006 film The Bubble, playing the Arab lover of a gay Jew. The performance earned him an Ophir Award nomination from the Israeli Film Academy for Best Supporting Actor. More recently active in US television, he he appeared on Homeland (the pilot), Game of Thrones, and recurred on the 2015 NBC series American Odyssey (as Shakir Khan).
Sources
↑ Sharma, Rosni. "New Kids on the Block." The Jerusalem Post. August 17, 2006
External links