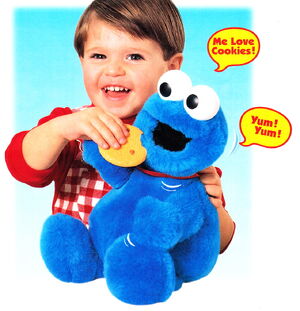 Yum Yum Cookie Monster is a Sesame Street toy made by Tyco in 1997. The plush Cookie Monster comes with a plastic cookie tied around his neck. When the cookie is placed in the monster's mouth, he moves his arms, makes crunching noises, and expresses his appreciation, saying: "Mmmm... dee-licious!", "Me love cookies!" and "Yum!"
This toy was part of Tyco's Talking Playtime Pals Assortment; the other toys in the line were Talking Farmer Ernie, Talking Alphabet Elmo and Playtime Big Bird.
A new version of the "eating" Cookie Monster toy, Feed Me Cookie Monster, was produced by Playskool in 2018.
Community content is available under
CC-BY-SA
unless otherwise noted.