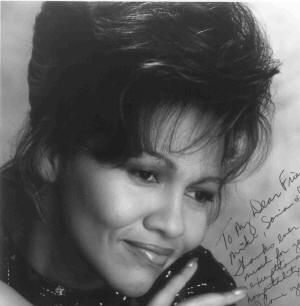 Yvonne Lewis is a session singer and voice actress who has been heard on Sesame Street and in related albums in various singing roles. In one of her earliest collaborations, she was one of "The Girls," the Anything Muppet trio who backed up Cookie Monster on "Me Lost Me Cookie," and she filled the same function on the albums Sesame Street Fever and Sesame Disco. Later, in the 1990s, she voiced one of the Squirrelles, in addition to countless one-shot chorus Muppets and off-screen vocals.
Lewis had a background in commercial jingles (including spots for Burger King and Quaker Oats), was part of the choir in the feature film The Wiz, and was heard on the soundtrack albums to Love at First Bite, Fame, and Think Like a Man. A prolific studio vocalist, she backed Roberta Flack on albums from 1972 through the 1990s, and was also heard with Luther Vandross, Harry Belafonte, and Aretha Franklin. She released her first solo CD, No Strangers in Paradise, in 1995.
Although still active as a recording artist, Lewis switched her major career focus in the 1990s to natural health remedies and forms of accupuncture, receiving doctorates in the field, and maintains a practice as a wellness consultant in Dallas, Texas.
Discography
External links
Community content is available under
CC-BY-SA
unless otherwise noted.