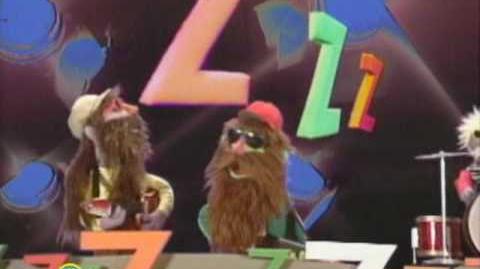 "ZZ Blues" is a Sesame Street song about the letter Z performed by "Over the Top," a look-alike Muppet band of ZZ Top.
The band's frontman tells through song how tired they are from singing about words that start with Z, and they can only think of so many. As they perform, chroma-keyed objects float against spotlights in the background, including rows of Zs, a zebra, and a zipper. The other musicians gradually become drowsy and, by the song's end, fall asleep as they play. Surprised to see his bandmates tired out, the lead singer decides to "cop some Z's" himself and joins them in slumber.
Notes
The chroma-keyed Z objects were puppeteered by Richard Hunt, Pam Arciero and Martin P. Robinson.[1]
On the "Count It Higher: Great Music Videos from Sesame Street" VHS, the video has MTV-style captions that refer to "US Snooze Records". The original VHS release included printed lyrics.
Releases
Audio
Video
Online
Sources
↑ 1.0 1.1 Documents provided by trusted source
Community content is available under
CC-BY-SA
unless otherwise noted.