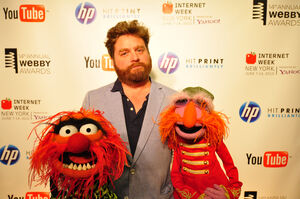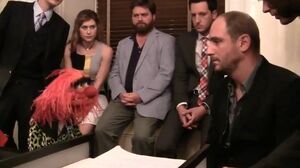 Zach Galifianakis (b. 1969) is an American comedian and actor best known for his role in The Hangover. He appears in The Muppets as Hobo Joe, the only person who shows up in the audience for the beginning of the Muppet Telethon. Galifianakis reprised his role as Hobo Joe in Muppets Most Wanted.
Galifianakis was present during a viral video of a staring contest between Animal and OK Go drummer Dan Konopka backstage at the Webby Awards. (YouTube) He was also photographed with Floyd Pepper and Animal on the event's red carpet. Galifianakis and Will Ferrell presented the 2012 Academy Award for "Best Song" to The Muppets for "Man or Muppet."
Galifianakis appears in a Word of the Day segment for Sesame Street's 45th season, presenting the word "nimble" with Murray Monster.
Gaining more exposure after the success of The Hangover, Galifianakis has hosted Saturday Night Live, starred on the HBO comedy Bored to Death and voiced Humpty Dumpty in the 2011 animated film Puss in Boots.
External links