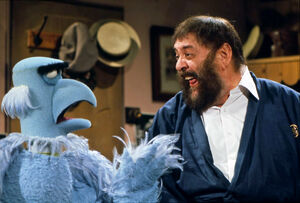 Zero Mostel (1915-1977) was an American comedian, actor and singer whose credits ranged from Tevye in the original Broadway version of Fiddler on the Roof to Max Bialystock in the 1968 film version of Mel Brooks' The Producers.
Mostel appeared in a series of inserts on Sesame Street during its sixth season, illustrating opposite concepts in pantomime, with music by Sam Pottle. (First: Episode 0694) The skits were adapted for the 1974 photo book Sesame Street Book of Opposites, again with Mostel. He also provided the voice of the evil Spell Binder, foil of Letterman, on The Electric Company.
Mostel guest starred on The Muppet Show episode 202, which aired in the United States three months after his death on September 8, 1977.
(Commenting on Jim Henson's Muppets): "He has the best possible actors. If you have a disagreement with them, you can always use them to wash your car."[1]
External links
Sources