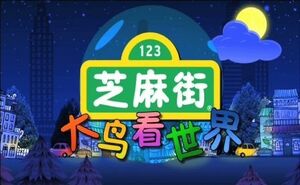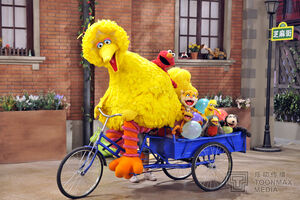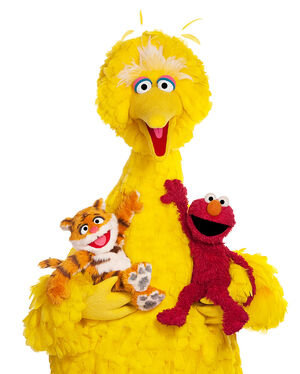 Sesame Street: Big Bird Looks at the World (芝麻街: 大鸟看世界, Zhima Jie: Da Niao Kan Shijie) is a Chinese Sesame Street co-production which premiered on the Ha Ha Channel on December 22, 2010. The fifty-two episode 11-minute series features features Big Bird and Elmo, and introduces a new character, a tiger cub named Lily, who loves martial arts and learning to read. It is a follow-up to China's previous Sesame Street co-production Zhima Jie.
The series promotes scientific discovery and the characters will try to search answers to questions such as: "Why do birds fly?" or "Why are polar bears white?"
The series was a success in China with 400,000 preschoolers and nearly one million mothers with young children watching in the first two months.[cite] The show won the 2011 Hugo Award for its 'innovative and outstanding' contribution to the world of television.
In 2012, it was announced that there would be a second Chinese-language program, Fun Fun Elmo.
Big Bird has made reference on the show to his grandmother.
Format
Before each episode, there are segments that features Elmo and some children engaging in a science-based craft activity that viewers can do at home. Science-based crafts include creating a bird feeder from a juice carton, making a rain stick, and writing a secret message with lemon juice. These segments are to encouraged children and parents to engage in scientific inquiry and exploration in their everyday lives.
Each episode is triggered by a question that the Muppet characters have when they notice something about the world around them. Within each episode, two live-action films provide in-depth information and real-world visuals. One of these live action films features a hands-on activity that relates to the question raised. A second live action film presents additional information and insight on the topic at hand. These segments are designed to extend the science knowledge and to bring it to life.[1]
At the end of each episode, there is a song that the Muppet characters and children sing relating to the topic of the episode.
Sources
External links
Community content is available under
CC-BY-SA
unless otherwise noted.