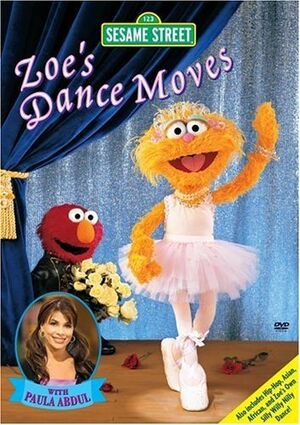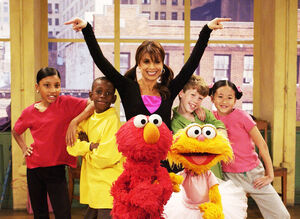 Zoe's Dance Moves is a direct-to-video Sesame Street DVD, featuring a guest appearance by Paula Abdul. It was first released in 2003, then re-released as part of the 3-DVD set Get Ready to Dance and Move! in 2005.
Zoe and Elmo are taking dance lessons, but Elmo forgets his dance shoes and goes off to get them. When Zoe arrives, she finds out that she missed dance class, but the teacher, Paula Abdul, offers Zoe's help in choreographing a new dance move. Through each dance moves, Zoe learns about certain dance moves from traditional ballet to hip hop dance. By the time Zoe and Paula Abdul finish creating their new dance moves, Elmo finds his dancing shoes and is ready to dance along with them.
Segments
Other releases
Credits
Producer: Dionne Nosek
Co-Producer: Kevin Clash
Written by Annie Evans
Directed by Emily Squires
Line Producer: Deborah Mayer
Starring Fran Brill as Zoe
With Special Guest Star Paula Abdul
With Muppet Performers
Choreography by Brian Thomas, Paula Abdul
Music Director: Mike Renzi
Costume Designers: Bill Kellard, Terry Roberson
Senior Muppet Consultant: Kevin Clash
Jim Henson's Muppet Workshop: Jason Weber, Rollie Krewson, Michael Schupbach, Sarah Iams, Victoria Ellis
Sound Effects: Dick Maitland
Graphic Artist: Pete Ortiz
Video Engineer: Tom Guadarrama
Audio: Blake Norton, Carla Bandini-Lory
Camera: Frank Biondo, Shawn Harkins, Pat Minetta, Jimmy O'Donnell
Utilities: Gordon Price, Chuck Tutino
Music Coordinator: Danny Epstein
Additional Songs by Stephan Clemente, Leo Delibes, Andrew Erzin, Kenneth Field, Jody Gray, Carol Hall, M. P. Hwang, Gail Sky King, Randy Klein, Robert Merkin, Michael Olatunji, Tom Spahn, Ken Winokur
Vice President, Education & Research: Rosemarie Truglio, PH.D.
For The Jim Henson Company: Jill Colley, Janelle Courts, Joey Roddy
For Sesame Workshop: Heather Hanssen, Peter MacKennan, Valerie Mitchell, Tamra Seldin
Special Thanks to April Chadderdon, Ken Diego, Karen Ialacci, Carol-Lynn Parente, Arlene Sherman, Karin Shiel
Community content is available under
CC-BY-SA
unless otherwise noted.