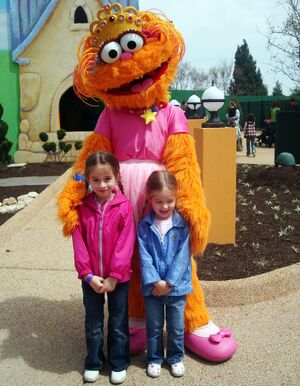 Walk-arounds of Zoe created for stage and public appearances, including Sesame Street Live. Performed to a vocal track by Fran Brill until 2016, when Jennifer Barnhart took over. Like her puppet counterpart, the Zoe walk-around was originally unclothed until the early 2000s, when she began wearing a tutu (except for Universal Studios Japan, where she remains unclothed).
Zoe was added to Sesame Place in 1996. Zoe also appears at SeaWorld parks, Busch Gardens, Beaches Resorts, Parque Plaza Sésamo (since 2006), PortAventura, and Universal Studios Japan.
Zoe has also appeared at the now defunct Tokyo Sesame Place, and formerly appeared at Hopi Hari in Brazil and Sea World in Queensland, Australia.
Community content is available under
CC-BY-SA
unless otherwise noted.