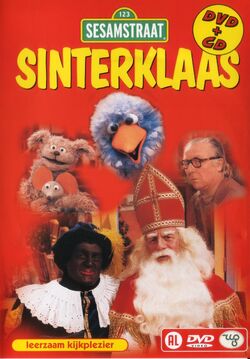 Zwarte Piet (Black Pete) is a fictional character in Dutch folklore. Every year, Sinterklaas ("St. Nicholas") travels by boat from Spain to the Netherlands so that he can give presents to children on the eve of his name-day, or December 5th. Traditionally he was accompanied by a helper, Zwarte Piet, who had a black face and wore colorful Moorish clothes with a large white ruffled collar. Over the years, additional nameless Pieten were added as his helpers, similar to Santa's elves. In the 1980s, Bram van der Vlugt, who played Sinterklaas for 25 years, started naming these Pieten to indicate their specific duties.
Over the years, Zwarte Piet has appeared on many episodes of Sesamstraat, the Dutch co-production of Sesame Street. He has also appeared on DVDs, holiday specials, and albums such as Hoor Wie Klopt Daar Kinderen.
Some 'Zwarte Pieten' that have appeared on Sesamstraat
Notes
Zwarte Piet is also the Dutch name for the card game Old Maid. The name Black Pete refers to one of the black jacks (spades or clubs) which functions as the one single card.
In a 1987 Sesamstraat episode, Pino learned from Gerda that calling her and other black people "Zwarte Piet" is offensive.[1]
The character's black color may be attributed either to his Moorish heritage or to soot from chimneys. Traditionally he was played by an actor in full blackface makeup; but in recent years, Zwarte Piet sometimes has streaks of soot across his face instead. In this case he is called "Schoorsteen Piet" ("Chimney Pete").[2][3] Through December 2018, Schoorsteen Piet has not appeared on Sesamstraat.
Sources
↑ "No more Black Pete in Amsterdam; Just Chimney Pete" (article in Dutch)
↑ "RTL stops with Black Pete and will have Chimney Pete from now on" (article in Dutch)
Community content is available under
CC-BY-SA
unless otherwise noted.